Need something fun to do with your kids for St. Patrick's Day?  That odd little holiday that is all about green can be a meaningful one, too!  Our children are counting their blessings with pennies during March.  Here is all you need to do to start a simply wonderful family tradition:
Dig out pennies from all their hiding spots and place in a little bowl
Decorate a jar with green ribbon, shamrock shapes, etc., and cut a slit in the lid
Have your children say what they feel is a blessing in their life as they drop a penny in the jar (and repeating themselves is just fine!)
In addition to the warm fuzzy feelings, you can enjoy the money in the jar at the end of the month by buying a little gift for the family to enjoy, such as a frisbee, a board game, or cupcakes.  Or bless someone else with your treasure!
Another neat St. Paddy's Day activity we do with our kids is a Lucky Penny Hunt…more about that next time!
Please do share your fun traditions by leaving a comment!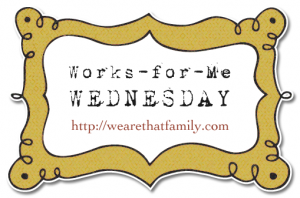 And find more ideas for teaching values as we continue this series each month…