Time Management for Stay-at-Home Moms Series, Part 2
Last week, we started this series on time management for stay-at-home moms (or dads!) with three ways to better manage your time.   Now for three more ways to multiply minutes in these crazy days:
3.  Working in Circles
I am so easily sidetracked by my kids that I have to ask myself all day, "Now where was I?"  And that's fine- I should, and do, stop to help them often.  But the goal is to get back and finish the uncompleted task at hand, rather than moving on and leaving one after another after another halfway done.  Sometimes it gets to the point of verbally stating the task from which I must turn- "dishes!"- before I forget.
Working my way around a room to clean up clutter is a great way to handle that inevitable parent flightiness.   I also aim to do all my noisy chores- dishes, dustbusting, etc.- during everyone's waking hours.
4.  Rope in the Help
My kids have certain chores to complete:  make beds, sort dirty clothes in hamper, put away clean laundry, etc.  And they have a "job of the day" which is whatever I need that they can handle- sometimes we work together, which I love.  If it isn't assigned first thing in the morning and they are playing great on their own, I let them play until the inevitable tiff arises… then dole out the chore to stop that argument in its' tracks!  (Disclaimer:  this may or may not be the "right" way to handle it according to experts- I don't know- but it works so well!)
5.  Good Ole' Fashioned Procrastination
Sometimes it just hits.  The house is too messy to tackle.  That pile of dishes just too large.  It's not so bad.  I'll just check my favorite blogs, and my ebay listings again, and then get around to it.  In no time flat, everyone is gathering around for dinner and chaos reigns.  When the urge to procrastinate strikes, I consider how quickly (not perfectly) straightening the house or getting my office work done during naptime or starting dinner early blesses my family.  Less stress, a plac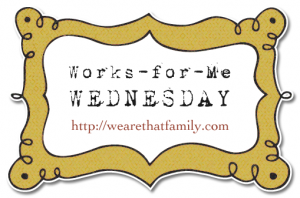 e to love to call "home", and more quality time together makes getting right down to work so worth it.
Now if you'll please excuse me, I really need to make our house a home and spend time with my little one!   And please do leave your thoughts in the comments!