Here is a wonderful indoor day activity- homemade washable finger paints!  It will wash out of most, but not everything, so still try to keep it at the table and use smocks (homemade versions: old shirts or plastic bags with holes for head and arms.)  These are actually for fingers, brushes, or stamps to be perfectly clear!
Ingredients
2 Tablespoons Sugar
1/3 cup cornstarch
2 cups water
1/4 cup dish soap (colored dishwash soap will affect the colors- use it to your advantage or use clear!)
food coloring as desired
small containers (baby food jars with lids are perfect)
Directions
Put the sugar and cornstarch in a saucepan and slowly stir in cold water.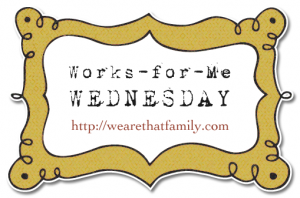 Cook over low heat for 5 minutes, stirring constantly until mixture is a smooth gel.
Allow to cool, then add dishwash soap. Divide into small containers and stir in food coloring drops until you achieve desired colors.
Also be sure to try out the homemade playdough recipe here.
For more tips on frugal craftiness, check out Thrifty Living on One Income Series… Get Crafty!
Please do tell your favorite homemade arts and crafts ideas!