For years I've been selling outgrown baby equipment and kids clothes and toys at consignment sales. Yes, I still feel like this is a great way to unload and make enough money to turn around and shop at said consignment sales. However, I now know to hold onto those top brand items! When the season is right, I'm selling those on eBay. Here's how:
1. Become an eBay shopper to build up your reputation and get to know a little about how eBay works.
2. Pull out all those name brand items that are still in good shape. Brands that sell well are Baby Gap, Gap Kids, Gymboree, Old Navy, Nike, Ralph Lauren, and boutique brands. By the way, don't pull off tags until your kid is getting ready to wear it. New with tags (NWT) sells really well on eBay.
3. Accessorize! Add matching hairbows (make some!), socks, hats, purses, etc. Better yet, buy all pieces of outfits on clearance. You can buy an $80 Gymboree ensemble (shirt, overall, socks) for $20 at the end of the season, put it on your kid for a season, and have it sell for more than you paid!  I'm selling the sweater, skirt, and boots shown in the above photo now that the boots are outgrown [tear in eye].
4. Take photos in good light. Be sure to smooth out wrinkles, trim strings, etc. Take close-ups of details on the items, too (embroidery, tags, logos, etc.) and photo any defects, too. Tis better to be honest.
5. Research completed listings for ideas on how to list and price your item. You can learn a lot here.
6. Keep season in mind. Sell spring clothes when retailers are selling theirs and so forth.
7. Title is key! Include gender, brand name (spelled correctly!), size, any other information people may search. The condition should be indicated as follows: EUC is "excellent used condition," GUC is "good used condition," NWT means "New with tags," NWOT means "new without tags," and LN means "like new." People who shop for clothes on eBay know these and type them in the search box.
8. Describe fabric types, measurements, and anything else you can think of to avoid buyer questions.
9. Time your auction to end when stay-at-home moms are shopping for their kids- during the day during their nap time, so mid-day to early afternoon works well. Working moms will likely shop during their lunch break.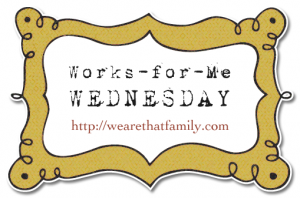 10. Keep shipping and handling costs reasonable. eBay and buyers alike frown upon inflated shipping charges. This can even lower your standings in eBay searches.
Right now, there are no listing fees so enjoy selling your kids old stuff! I'm actually gearing up to sell new toys I bought on clearance last summer….Christmas money is on the way!
Please do share….what are your (genuine) money-making tips?